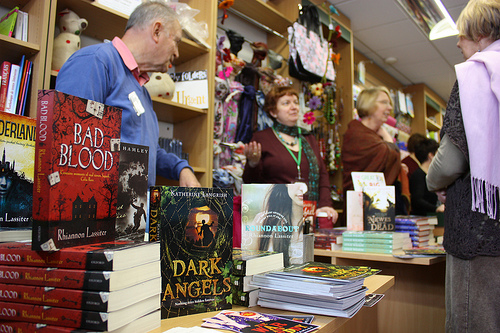 I would have written this up earlier but I was in a tearing hurry to leave for Bologna! However we had the first Children's Author Roadshow event in Abingdon on the 13th of March at The Bookstore in Abingdon.
The event was organised by the Oxfordshire branch of the Children's Author Roadshow which is a new project of the scattered Authors Society to link groups of local authors for visits. Our group of authors were: Leslie Wilson, Joanna Kenrick, Mary Hoffman, Kath Langrish, Rhiannon Lassiter, Dennis Hamley and Mary Hooper.
With so many authors I was a bit worried we'd fill up the whole shop so customers couldn't get in. But The Bookstore turned out to be surprisingly spacious almost Tardis-like in its ability to cram in so many of us and still keep plenty of room for people having books signed, people buying books and people simply browsing the shelves. We took up two tables with our books and the authors took turns behind the tables, meeting and greeting and handing out free postcards and bookmarks inside and outside the store. The staff members were very friendly and supportive and had put together a beautiful window display of all of our books and a swingstand outside the shop.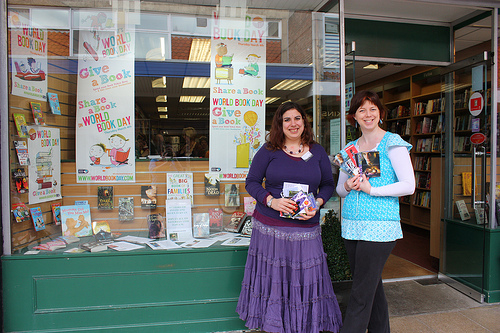 At this event I was promoting Bad Blood and the reissued Rights of Passage sequence, of which Borderland and Outland have been published so far. I handed out competition flyers with the opportunity to win a free copy of Borderland or Outland by answering the question "If you discovered a secret doorway into another world, what would you do?"
We had a number of entrants and almost everyone who answered included having adventures in their reply. Quite a few people would take a friend or family member with them and an honorable mention to the contestant who wanted to fill her world with music.
I chose the winner later that evening and can now announce the winner was Kathlyn, from Abingdon, UK with the answer: "Bring a friend with me so we could discover the world together and hopefully have adventures. And also meet interesting characters in the other world to be my friends." Congratulations, Kathlyn! A copy of Borderland is on its way and should reach you by the end of the month.
The photos you see in this entry were taken by Sara Wallcraft, Monkeyflower Designs, who kindly helped me out at this event. She's one of my cloest friends and if I ever do discover a door into another world I'm sure she'll be close behind me. Thanks also to Jo Kenrick who did the lioness' share of the organising (all the hard work of tracking down suitable prey and organising the pride of authors) and to Mary Hoffman for transporting me to Abingdon. Thank you as well to the rest of the CAR team who were a joy to work with. I hope to do more signings with the group this year.