Welcome to my Halloween blog party! Come in… have a seat… don't mind the cobwebs – they're just for decoration, would you like some pumpkin pie? Or a glass of pumpkin-spiced punch? It's all virtual but tasty, I promise! That black cat crossing your path is Shadow. Her costume is the cat burglar from Little Witches – convincing, right? I'm dressed as an Autumn Witch.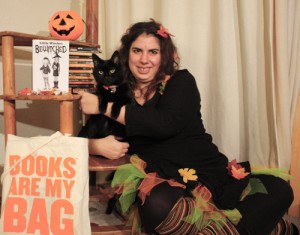 Today the Little Witches officially launch and just for Halloween there's a 70% discount on the brand new eBook. That's £1.53 from Amazon UK or $2.99 from Amazon US. For that price you get five stories about Dulcie and Verity, their friends and their adventures. There's also cover artwork drawn by Dom and some smashing pumpkins by Sara.
Check out the Little Witches book page for more about the book.


The Little Witches have been celebrating Halloween by trick-or-treating around the internet and visiting various book world blogs and websites to say hello.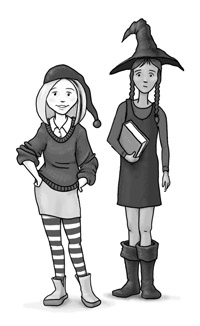 Now they're back here for their own Halloween party!

Keep the pumpkin punch flowing, there'll be more Halloween fun throughout the day and night on this blog post. Competitions will be announced soon!.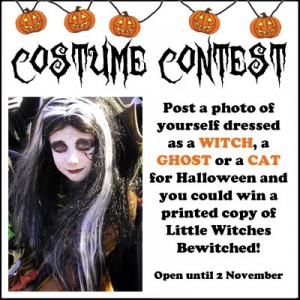 Update 10.30am Let the games begin: The first visitors are here – Mary brought delicious pumpkin soup and I will share my share of Sara's pumpkin toaster pockets. Shadow is ensconced on my lap and shows not signs of moving ever. It must be time for the first competition.
This is the costume contest. To enter post a photo or a link to one in the comments. All ages eligible but the photo must be of yourself (not just harvested from the web) and you must be dressed as a witch, a ghost or a cat. Grown-ups, you can post on behalf of your little witches, ghostlings and kittens.
The prize is a physical copy of Little witches Bewitched. The proof arrived yesterday, you can see it in the photo of me at the top of this post and on the updated Little Witches book page (where you can also see me dressed as BatGirl), and today I am offering 3 copies as prizes. You'll have to wait a little bit for the prize because they won't be available until early December. But I will sign them to the winner – or to the person of their choice if they want to give the book away as a present.
The contest is open until 2 November, All Souls Day, (or Bexy's Birthday as we call it in my family) to give you time to post pictures from Halloween parties on Saturday. But you can get posting now and any pictures from previous years are eligible as long as you're the one in them. So get posting, people. Let's see those Halloween costumes.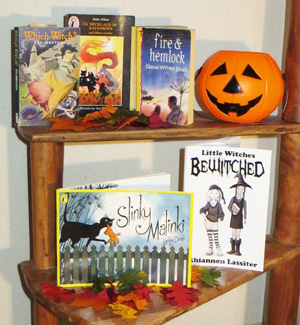 Update 12.30: Halloween Reads Welcome to all the new arrivals. The next contest will be coming later this afternoon. Meanwhile, who's following #Halloweenreads on twitter? On my Halloween bookshelves are:
What are your favourite Halloween reads?