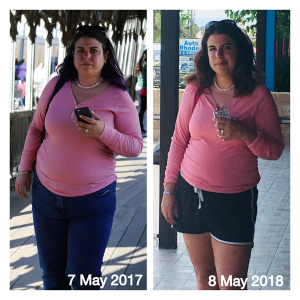 So, this time last year I was at Harry Potter world and didn't notice my friend taking this photo. I wouldn't normally have posted it because I don't like it very much. However it has its uses because one year later it serves as a useful comparison for my fitness journey. Today's required some curation and the limited patience of my other half. But here we are.
Don't pay too much attention to the fact I look grumpy in the left hand pic, I was having a lovely day and other photos attest to that. I also didn't see the photographer or I'd have smiled.
The top is the same, I brought it to Greece deliberately, but the lighting makes it look different. I did not bring jeans because I didn't want to be broiled.
If you're planning a major lifestyle change do take before photos, your future self will thank you for them.