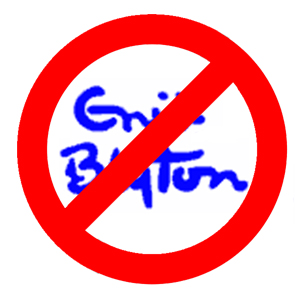 Like Michael Morpurgo, I was banned from reading Enid Blyton as a child.
Morpurgo's stepfather, an academic, believed her too superficial and, consequently, not good for him.
"But he was wrong," says Morpurgo. "Her books were terrific page-turners in the way no others were. I had all sorts put into my hands when I was very little – I was offered Dickens at eight – that were not suitable for boys my age at all. But with Enid Blyton, I found I could actually get into the story, and finish it. They moved fast, almost as fast as comics, and there was satisfaction to be had on every single page. Were they great literature? Of course not. But they didn't need to be."
This comment from Morpurgo, in the Guardian, gives me deja vu. It seems as though only a couple of weeks ago I had at this question from the other side when I said that I found Dickens very readable as a child. I also read Brave New World at eight abd although I'm sure I missed nuances I understood it.
But Enid Blyton? The only appeal was that I'd been banned from reading her. My mother, author Mary Hoffman, didn't think much of Blyton and wouldn't have her writing in the house. But friends had it and the school library was full of the stuff so I naturally had to see what was being forbidden. I read the Faraway Tree (limp fantasy) and several the …of Adventure series: as in Island of Adventure, Castle of Adventure, etc. But they were clearly formulaic. One child loves animals and keeps ferrets down his trousers and owls in his hat which may or may not usefully save the day if a sudden need for ferrets or owls arises. I can't remember much more than that -except that wherever the Location of Adventure was there were always caves involved.
My mother was also anti reading scheme books and from what I hear from a friend with primary school aged children those haven't changed much either. I think even the Village with Three Corners is still kicking around in school libraries. Who else remembers Billy Blue Hat and Roger Red Hat? And did they seriously introduce a white turbanned character later on?
25 years on (oh dear lord I am old) I still endorse the Enid Blyton ban. I'll go further and say that formulaic lumpen children's fiction is like junk food. You can read it, you can enjoy it, but it's lacking essential elements of literary nutrition. Take the Rainbow Fairies series. Yes, I know little girls love them. And, no, that is not enough for me to spare them my ire. Their appeal is a mixture of peer pressure and completism. And perhaps curiosity: why is there one fairy (Gertrude?) for Gerbils while another takes on all the rest of the small rodents.
I agree with Morpurgo and disagree with Gove, that demanding children read "good" literature is a sure way to turn them off the stuff. That said, a list of 50 great books sounds like a better thing to have forced on you than Messers Blue Hat and Red Hat. Despite reading fluently my junior school wouldn't allow me to pass on to "free reading" until I had had every single reading scheme book ticked off in my reading book. A Herculean feat when the whole school was reading their way through the things (out of order) and some simply didn't seem to exist.
Ultimately "free reading" is the goal. You should read what you want to read. No matter who calls it dross. (Including me.) Read Harry Potter and Twilight. Read Enid Blyton and the Rainbow Fairy books. Read banned books like Forever and Speak. Read The Secret Diary of Laura Palmer (which kids at my school passed around like Lady Chatterly's Lover to avoid parental bans). Read Huysman's A Rebours (the book that corrupted Dorian Grey). Read Gove's list of 50 books (if he comes up with one) and all the other lists of books to read before you die. This is how you develop a critical faculty: by reading books until you know which ones you think are good and bad and, more importantly, why you think so.
There's still no Enid Blyton in my house. But I wouldn't bother to ban it. Why give it the allure of the forbidden? The Dispossessed by Ursula Le Guin – there's a novel to avoid, you're probably not ready for it, it's not all that great anyway, I'll just put it on this high shelf out of your reach and leave the room…