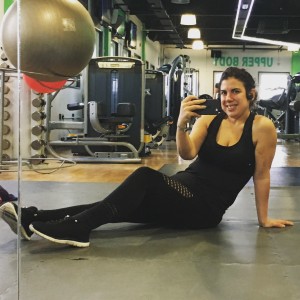 I wrote this post on the 11th of January 2018, one year ago, about going to the gym and attending classes. I was thinking about it the other day and thinking about how much has changed since then. I decided I'd write another post about going to the gym for first timers and people who are just getting started working out.
If you want advice about the etiquette of going to the gym there's a great Ask Reddit post full of crowd-sourced wisdom. Some top comments are about not worrying that you don't belong (because the gym is for everyone) and to rack your weights and not block the weight rack (because it messes things up for others).
Here's some things I learned on my own health and fitness journey:
First came discipline, then came enjoyment, then came a lifestyle
I used to go to the gym after work. I'd walk on a treadmill, push some weights. I never enjoyed it, never got that endorphin high people talked about, never seemed to get much benefit from it. In Spring 2017 I started doing something I did like, taking walks, enjoying being outside. Then in Summer 2017 I did Couchto5k. Before then I'd never felt any urge to run and I didn't even run for buses. But friends had done it and they had come to love running. I learned to run. Little by little, I went from running for 30 second to running for an hour. Sadly I didn't come to love running, and I don't do it any more, but I did it. I ran that 5k many times. And it taught me that I could do more than I thought.
In that post from January last year I talked about attending gym classes. I fell in love with Zumba, liked Aerobics and Body Pump, hated Tabata. In March I posted again about finally achieving that endorphin high. At that point I loved everything. I thought about retraining as a fitness instructor, that's how much I loved the gym. I smashed through goals in March to a level that's at the peak of all my data charts. But a person I respect warned me I was going too hard and others warned me that overtraining is a thing and gym can be an unhealthy addiction too. I listened and I reined back. I dropped the number of HIIT classes and started doing Pilates.
Today, I still love Zumba. I don't do Pump any more because I've moved on to more serious weight lifting which isn't super compatible with the class. (It's a good class though, even if I can lift more on my own I find it challenging when I do it, not the weight but the reps.) I don't usually do Tabata because again it isn't compatible with my personal regime but I did it this week and enjoyed it. But Tabata is a lot easier at my lighter weight and greater strength. It is tough without core strength, which I definitely lacked back then. Pilates has helped with that and with calm and balance. I used to think what was the point if a class where I wasn't burning calories hard but I've come to appreciate what Pilates gives me.
Mostly, I just like the gym. I like working out, I like classes, I like the culture and community. I like the lessons it teaches me, i like learning and being active. I watch out for overtraining, have regular rest periods, attend five or six classes a week, not two a day, work out three times a week with a personal trainer and do the extra gym work she gives me. I'm healthy and happy. I live in an active mindful way that extends beyond the gym. I hope this is a sustainable lifestyle, not just an addiction or obsession. I've moved out of weight loss and into fitness and maintenance, which involves some retraining of the brain.
If you're experiencing any part of this. If you hate what you're doing at the gym if you feel no connection to your work outs I'd say keep going but also look for something you might like better and keep an open mind. If you're having that endorphin rush, enjoy it, but look after your knees and don't go so hard you break yourself. I got stronger and fitter through adding more rest periods and backing off from just the calorie burn.
Being data-driven gave me a feeling of power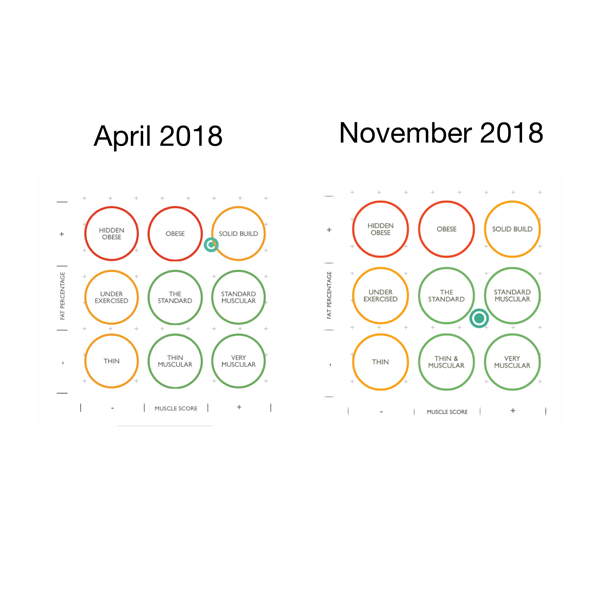 I learned to count things. I've never been that much for counting outside of work. And counting calories sounding depressing and weird. But I grew to enjoy data analysis in my job and that translated into enjoying it in my personal life.
With FitBit to count my calories out, I got interested on counting calories in. I followed CICO, a simple equation that to lose weight your calories out must be greater than your calories in. So tracking those things gave me control of my weightloss. It wasn't easy, but the knowledge gave me power. People give Kate Moss a lot of grief for the quotation "nothing tastes as good as skinny feels" but for me it was helpful. I didn't adopt this as a mantra, but I did remind myself that eating extra calories would give me a short term high but seeing the scales drop an extra pound would give me a greater sense of achievement. But sometimes those extra calories were worth it and I fully enjoyed them knowing I was making a choice to do so.
As I said to my friend the other day, sometimes counting calories is actually fun. You are making choices about food about whether that food is worth it to you or not. That is part of mindful eating. Calories are not my enemy. They are a scientific fact. I don't get on with slimfast or weight watchers because I don't like the idea of "sins" or "cheats". I prefer to think of additional delicious calories as treats. The important thing for me was to be honest with myself about the choices I was making and to log the data truthfully.
And I found that fitness was something where putting in the work got results. That was superbly satisfying.
The person I am today looks very different from the person I was a year ago, I got there step by step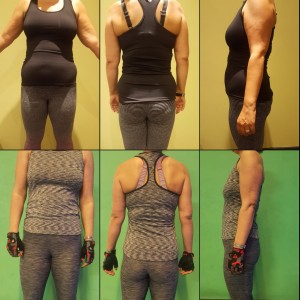 I take photos for myself. I take them to connect my mental image of myself with a physical reality. I can see progress better in photos taken once a month than in my day to day self as seen in the mirror. I took them to remind myself of how far I've come and to encourage me to keep going.
I share them because seeing progress pictures of others helped me. The subreddits r/loseit and r/progresspics are full of examples of people who have progressed from fat to fit. I talk about my journey because it's important to me. I hope that some people may also find it helpful to hear my story. And, I confess, I'm proud of my achievements and I like to celebrate them.
People started to notice me, I started to see myself differently
Everyone says "no one is looking at you" but I didn't find that completely true.
No one was ever mean to me, no one every laughed at me for being fat in the gym, for going to wrong way or messing something up. Never. The people who do that shit aren't tolerated in decent places. Any story online of people doing it ends with them being expelled from their gym. And if anyone ever does that to you report it.
But when I started to lose weight I found that people approached me to ask about it and congratulate me. That may be something you find uncomfortable. Initially I found that a mixture of exhilarating and uncomfortable. Along my journey I also got stronger with more noticeable muscles, that also attracted notice. I get a lot of attention at the gym because I made a notable transformation in a year. I've tried to be honest about the fact I was privileged with time and and a financial position that allowed me to invest both in fitness. I try to be aware that what has worked for me may not be the right choice for someone who asks for advice. I can only tell my story. I've become more comfortable with doing that. I've posted my progress photos online. I've appeared on my gym's instagram as a success story. There are videos on my trainer's feed of me working out.
If you start the gym tomorrow and you notice me, you'll see a slim fit person who doesn't struggle in class, someone who knows her way around and calls the trainers by name. That's not who I was a year ago and if I notice you, a new person in the class it's because i've spotted you're looking around for a mat or a space and I'll point you at the hooks on the wall where they keep the mats or move up and make space for you. I'm not going to tell you how to do your workout, that's your job and the trainer's but I'll share anything I know, if you ask. And when I was new people did the same for me.
The gym is for everyone. You are capable of more than you imagine. Put in the work and you will surprise yourself. I surprise myself every day.